Teespring vs. Redbubble
It's never easy to get started with an internet company. There are many factors to consider even to have a chance of being noticed.
Fortunately, there are many technologies available to make your job simpler, particularly in the eCommerce sector.
You may, for example, operate an eCommerce company without purchasing inventory or handling logistics.
Dropshipping is the name for this business strategy.
Purchase a product from a supplier anytime a customer places an order with you, and the supplier will take care of the rest.
Print-on-demand is similar to dropshipping.
If you're into fashion and want to make your designs and sell them without doing all the work, print on demand is a good option. But which print-on-demand tools should you use?
This article will weigh two of the best popular options: Redbubble and Teespring, to discover the best choice.
What Is Redbubble?
Redbubble was established in 2006 as a print-on-demand service.
Redbubble follows the same approach as Printiful, Printify, and other famous POD providers; however, it does not enable you to connect your website.
Redbubble can only be used as a marketplace where customers may browse your listings on the internet and purchase customized goods directly from the platform.
As a result, Redbubble is more prevalent among designers than people who want to start a full-fledged fashion company.
The platform offers designers a stress-free method to sell their work, as shown by the 700,000+ active artists who use it right now.
You will find Redbubble to be simple to use as an online vendor. You must first establish an account before uploading your artwork.
If you're happy with your design, write a brief message describing your product and use as many keywords as possible to improve your SEO.
When you're finished and satisfied with the way it appears, click the publish button, and your product will be ready for purchase on Redbubble.
Before you begin creating on Redbubble, there are a few things you should be aware of. To begin, you must be acquainted with each product's design model.
To develop a suitable design offline and submit the completed product to your account, you must first understand the dimension criteria.
You don't have to limit yourself since Redbubble allows a wide variety of mediums and art as long as you meet their rules.
Use only high-resolution PNG pictures, for example, to guarantee that your design looks excellent.
You may now modify your design to fit the various items you want to slap it on after you've submitted it to your Redbubble account.
One of the most extraordinary things about Redbubble is that you may list up to 60 items on the site, saving you a lot of time.
Redbubble is as simple to use as any other online store for customers. They may go through the designs and choose the ones that appeal to them.
Then it will be printed and sent to them by Redbubble.
For each product you sell, you are entitled to a portion of the selling price.
You will be able to withdraw whenever your total royalty for the month exceeds $20.
What is Teespring?
Teespring uses an approach similar to Redbubble.
For starters, they're both print-on-demand dropshipping services, but if you're brand new to the industry, you may choose Teespring over Redbubble since it's easier to use.
The registration procedure is identical to Redbubble, and then you may develop your designs using the platform's tools.
Unlike Redbubble, after creating a design you like, you choose the product and upload it to your website.
Teespring provides you with all of the design tools you'll need to make things look fantastic.
You may start from scratch or utilize templates to make your designs, and after you're done, you can view them to perceive how they'll appear on authentic goods.
If everything seems okay, you can select the price for your goods as well as the minimum quantity for sale.
One of the things that set Teespring apart from Redbubble is the need to establish a minimum quantity of goods to sell. It implies that if you don't see enough to meet the minimum requirement, the goods will not be produced or delivered.
While having a minimum quantity choice saves you money on printing, your clients may not like it, mainly if you set unrealistic numbers.
Teespring's recommendation function, for example, suggests how much you should charge for goods.
📌 INTEGRATION: Teespring vs. Redbubble
One of the features you should look for in a print-on-demand tool before deciding on one is its ability to connect with other platforms.
For example, you may wish to use a tool that can connect with your chosen website builder to add the designs you generate on the print-on-demand solution to your website.
So, between Redbubble and Teespring, which one provides you with more options?
🛍 Redbubble
Redbubble is a fully featured-only marketplace, which means it doesn't have any native integrations with Shopify or WooCommerce.
To put it another way, Redbubble was explicitly built to stick to what they know and can accomplish; therefore, you can only submit your designs and handle your orders and payments via their site.
Redbubble does, however, allow third-party apps such as Google Maps and Analytics.
🛍 Teespring
You can connect Teespring with a variety of third-party apps.
It may not contrast to the likes of Printful or even Printify in terms of the number of integrations available, but it offers just enough to let you sell as much as you can online.
The YouTube merch rack is one of the more intriguing features.
This option is especially beneficial for YouTubers and influencers with a sizable following base ready to purchase their goods.
You may sell any of your goods right underneath any YouTube video you upload on your channel after you activate the merch shelf on YouTube.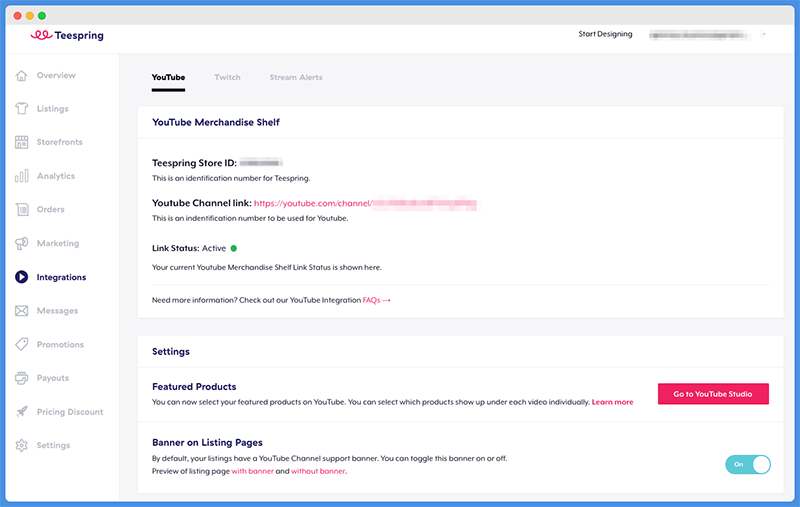 Products may also be sold on other channel shops.
Teespring, in a similar spirit, offers a Twitch merch shop, which I think is fantastic. Because of Twitch's rapid development, several broadcasters and influencers have large followings on the platform.
These influencers may connect their pages with Teespring, making it a great way to build their brand while still making money.
You may make apparel that is just available to your followers on Twitch or YouTube.
If you don't want to sell on Twitch or YouTube, you may use Google Shopping to sell your goods.
This option will assist you in keeping track of your sales and conversions.
Verdict
Teespring is the winner. You can showcase your goods in front of millions of consumers all around the globe since it enables third-party integration.
📌 FULFILLMENT AND SHIPPING: Teespring vs. Redbubble
When it comes to selecting a print-on-demand solution, another factor to think about is shipping and fulfillment.
To earn your customers' confidence, you'll need to deliver their purchases as soon as possible while without overcharging them for shipping.
This is a crucial aspect of your company since the incorrect service might cost you everything.
🛍 Redbubble
With a few exclusions, such as Cuba, Sudan, North Korea, and Syria, Redbubble ships worldwide.
To deliver orders to your consumers, the platform enlists the help of trustworthy couriers. They work together with some of the most renowned companies, including DHL, UPS, and FedEx.
On the other hand, shipment time depends on several factors, including destination location, product kind, and shipping mode.
Local orders will be delivered quicker than international orders, and express purchases will be returned faster than regular orders.
Local orders are usually delivered in two days or less, while an international order is typically delivered in three days.
It's also worth noting that Redbubble only delivers on business days and has an order tracker that allows you to test the development of your order in real-time.
As you would imagine, Redbubble's shipping costs fluctuate depending on various variables, but this does not affect you since shipping is always between them and the client.
When your consumer completes their order and arrives at the checkout page, Redbubble calculates the shipping cost depending on their chosen shipping method, order content, and delivery region.
🛍 Teespring
Teespring uses the same delivery method as Redbubble.
Shipping costs are generally determined by where you want the goods delivered.
Depending on your clients' goods wish to purchase, you may have to charge them an additional fee.
Teespring calculates the cost of delivery depending on the items being sent.
For example, if you're shipping a T-shirt to several customers in various regions, it could cost $3.99 in the United States, €8.99 in Europe, and $15 in Australia.
You will also be charged an additional $2 for each other item you add to your purchase.
Express orders are more costly, but they guarantee that your clients will get their purchases as soon as possible, and they account for any additional products.
Teespring ships on holidays, however, they may need extra money, and there may be a delay in delivery time.
Verdict
Customers can monitor their orders, change their delivery addresses, and even cancel purchases before sending them using both Teespring and Redbubble's order and fulfillment systems. It's a stalemate.
📌 CUSTOMER SERVICE: Redbubble vs. Teespring
Excellent customer service is one of the most important things your customers want to see when they purchase from you. Still, because it's out of your control, the best thing you can do is invest in a solution that provides excellent customer service.
🛍 Redbubble
Redbubble provides excellent customer service 24 hours a day, seven days a week, but not through email or live chat.
To get in touch with them, you must send a direct message to their official Twitter account, which isn't terrible since they respond very immediately.
If you don't feel like sending a message on Twitter, you may contact them via a customer care request.
This route will very certainly get you a fast answer, albeit not as quickly as Twitter.
Within 24 hours, you should hear from them.
If you've had enough of waiting and want to solve the problem yourself, there's a comprehensive help section on the Redbubble website that lists possible remedies for both sellers and buyers.
You'll find practically everything connected to Redbubble here, so finding a solution to your problem shouldn't be difficult.
You may also follow Redbubble on their other social media profiles to make sure you're covered.
They have a Facebook page and profiles on Instagram, Pinterest, and Tumblr, where you can keep up with the newest news.
🛍 Teespring
Teespring, like Redbubble, maintains a high level of customer care to keep consumers satisfied.
They offer a helpful customer service staff dedicated to helping you find a solution to your problem promptly, and you may contact them at any time with questions or to resolve an issue.
They've gone even farther to classify their assistance, with one part dedicated to questions regarding Teespring sales and another to assist you in deciding between them and other print-on-demand providers.
After you contact them, you should get a response within 24 hours.
They offer a live chat option, unlike Redbubble, that you may utilize to receive quicker replies when you first open the site, and you can check out their FAQ for solutions to frequently asked issues.
Verdict
Both systems provide excellent customer service and support; however, Teespring has an advantage in this area because of their live chat assistance. Therefore they win.
📌 PRODUCT QUALITY AND DESIGN: Teespring vs. Redbubble
What counts most with any print-on-demand solution is the quality of the goods.
All of the other elements of the business are essential as well, but if the company excels in those areas, but the goods and print quality are subpar, there will be problems.
Even when using mockup generators to compare two POD businesses in this area, it's challenging to determine which one provides the most incredible service.
You won't be able to determine which product is superior until you see and feel it, which is why ordering one product for yourself before exposing your ideas to customers is always a good idea.
🛍 Redbubble
Redbubble has printing and fulfillment partners in several countries, including the United States, the United Kingdom, Germany, Canada, and Australia. The quality of their goods is excellent since they are ethically sourced.
When it comes to the quality of Redbubble's goods, a simple search on Google will provide mainly positive results.
🛍 Teespring
When it comes to print quality and design, Teespring is a fantastic option.
They not only give a variety of features to ensure that your ideas are successful, but they also provide additional help with product design.
Teespring offers both screen printing and direct-to-garment printing options.
Screen printing allows you to produce many items fast while maintaining the high quality that Teespring is renowned for. On the other hand, direct to garment necessitates the scanning, testing, and vetting of a design before it is put in the catalog.
Teespring, like Redbubble, prioritizes high quality for your goods, and you may purchase sample products to check the quality.
The platform includes technology that lets you determine if your goods are excellent or not before uploading them to your WooCommerce or Shopify shop, but that's not all.
It will offer you recommendations on how to improve your design if it flags it as bad.
Verdict
It isn't easy to pick between Redbubble and Teespring when it comes to product quality and design.
On the one hand, Teespring has a more extensive inventory than Redbubble; yet, Redbubble offers a broader range of designs and has more print partners worldwide.
📌 COST COMPARISON: Redbubble vs. Teespring:
Even whether you're utilizing a website builder or an email marketing software, you should choose something that fits your funds when it comes to selecting a print-on-demand tool or any other product for that matter.
The good news is that you seldom spend a lot of money on print on demand.
This is mainly because you will not be forced to pay a membership or subscription to access the services.
You'll only have to pay for the item you're selling.
🛍 Redbubble
Redbubble prices fluctuate a lot, as I previously said.
If you want to maintain on the peak of things, you should always verify the current rate for the goods you're listing in your catalog before deciding on your margins.
On the other hand, home decorations are typically the most expensive products on Redbubble, with a duvet cover costing as much as $100.
Clothes aren't as costly, but they may cost anywhere from $15 to $45, and artwork can cost anywhere from $14 to $30, depending on the style. You may learn more about the introductory price by clicking here.
🛍 Teespring
Let's have a look at the Teespring price, which is entirely free.
There is no cost to join up for the platform, and there are no long-term membership fees so that you can get started on your POD company right away.
On the other hand, the platform charges a fixed price for any product you choose to sell, which it discloses to you as you create the product so you may add your margins.
If you need more services, you may be asked to pay an additional fee.
If you wish to print on both the front and back of your shirt, for example, you will spend more than if you want to print on one side.
Teespring also gives you discounts if you sell a lot of items on the site.
For example, if you have never sold anything before, you may be able to buy a shirt for $15, but if you have sold more than 10,000 items on the site, you could be able to get the same garment for $7.
Teespring, like Redbubble, offers you an estimate of how much money you'll make from selling a product by suggesting a retail price; however, you'll have to decide whether to accept that pricing or not.
To learn more about how visit establishes your price, go to Teespring's community rules.
Verdict
Teespring beats Redbubble when it comes to the pricing since they provide a more flexible pricing approach that enables you to set your selling price and profit margin.
Teespring vs. Redbubble: What's the Difference?
Similarities
Redbubble and Teespring are both print-on-demand services.
Customers may choose and personalize a wide variety of goods, including gifts, accessories, and clothing, on both sites.
Locally and globally, Redbubble and Teespring provide printing, order processing, and fulfillment services.
The dashboards of Redbubble and Teespring allow you to keep track of your account's activity, such as orders, payouts, and statistics.
They're both mobile-friendly.
Differences
Teespring, unlike Redbubble, connects with your website and other third-party page builders like Shopify.
Teespring's product selection is more diverse than Redbubble's.
Teespring has a live chat, while Redbubble does not.
---
Pros and Cons of Redbubble
✅ Pros of Redbubble
Redbubble is simple to use.
There is no cost to join up or pay a monthly membership.
They provide outstanding customer service.
You may modify several items at once on Redbubble.
Redbubble offers a wealth of information.
The platform includes analytics built-in.
❎ Cons of Redbubble
The only time you may withdraw money is once a month.
Redbubble does not allow for the integration of an online store.
The pricing of Redbubble items fluctuates a lot.
Pros and Cons of Teespring
✅ Pros of Teespring
Teespring offers an almost limitless number of items.
You may quickly become recognized by promoting your designs on social media.
The backend is simple to comprehend.
They have a live chat feature and provide excellent customer service.
Other eCommerce systems may be integrated.
Customers may choose from a variety of printing choices at Teespring.
❎ Cons of Teespring
Teespring's marketing is done by hand. You must finish all of the assignments on your own.
Before it gets to print, you must sell a certain quantity of items.
---
Which is better, Redbubble or Teespring?
That concludes the Redbubble vs. Teespring debate.
Both Redbubble and Teespring can let you quickly design and sell unique goods. Still, if it comes down to a single option between Teespring and Redbubble, Teespring wins since it provides greater versatility than Redbubble.
Teespring is also the platform to use if you're on a tight budget and want to start a small print-on-demand company.